TOPICAL ANESTHESIA VS INTRASACCULAR FOR CATARACT SURGERY WITH PHACOEMULSIFICATION
Chiefari M., Lener G.. Primerano B., Eziandio C., Ambrosio S., Carbone M., Grella E., Lo Sapio D.
Institute of Anesthesia, Analgesia, Reanimation and Intensive Therapy (Dir, Prof. A. Grella) II Univ. Naples
Purpose of our study has been to appraise the effectiveness of the intrasaccular anesthesia with lidocaina 1 % vs topical anesthesia with lidocaina 4% for cataract surgery with phacoemulsification (CSF).
Methods: Previous consent informed, 56 patients they have entered in the study, 29M and 27W (72-91 years), ASA II-
III scheduled for CSF, divided at random in groups of 28 pz. each (GA and GB). All have received atropina + midazolam i.m. 40' before the CSF. We have monitored: ECG, FC, PA, SpOz. GA has received lidocaina 4% a drop every 5 for 5 times (fig.1) and GB two drops of lidocaina to 4% to allow the capsulorhexis and then lidocaina 1% (0,2 ml) intrasaccular (fig.2) to effect CSF. The intensive of pain with VAS and the duration of analgesia we valuted.



Fig. 1 Fig. 2
Results: The CSF time required 12 ± T in 24 pz of GA and 20 pz ofGB with VAS 1-2. For CSF >15',4pzofGA have received lidocaina 4% (VAS 6-7); 8 pz of GB have not required additional anesthesia (VAS 1-3). The anesthesia has been in GA 20' and GB 25-30'. The emodinamic parameters are maintained stable in the 24 pz of GA and 20 pz of GB in CSF < 15'; in the others has been an increase of FC and PA not > 20% of the basal values.
Conclusions: The techniques are both valid ones when CSF < 20' but the intrasaccular anesthesia has a longer time.
CONSERVATIVE CAUSAL THERAPY OF SHOULDERJOINT ARTHROSIS WITH ACUPUNCTURE, IN COMBINATION WITH NEURALTHERAPY, TENS AND "SYNVISC" (SYNOVIA SUBSTITUTE):
MODIFIED WHO - STEPSCHEME, IN COMBINATION WITH ACUPUNCTURE, NEURALTHERAPY, TENS AND "SYNVISC" (SYNOVIA SUBSTITUTE) FOR CAUSAL TREATMENT OF THE SHOULDERJOINT ARTHROSIS, AFTER TRANG (WITH FRIENDLY SUPPORT OF THE FIRMS GOEDECKE, WYETH AND BIOMATRIX).
Dr med Trang-Xuan Nguyen. medical specialist in general medicine, gynecology, obstetrics and special pain therapy, Fnedlander Weg 51, 37085 Gottingen, Germany, in co-oporation with Prof hcjo Eckel, Medical Superintendent of the radiological unit and Medical Director at the Protestant Hospital Gottingen, An der Lutter 24, 37075 Gottingen, Germany
Aim of investigation: For many sportsmen and -women and also for craftsmen, the shouldeqomt arthrosis means the end of their career since conservative treatment with cortisone injection, immobilization or surgery does not always shows the desired results and the postsurgical pains, especially pain on weight bearing are always considerable and the relapse rate is very high The aim of this investigation is to show an effective, practicable and less stress causing therapy thus avoiding surgery
Methods: The cure was achieved in a very high number of patients exclusively with the combination of neuraltherapy, acupuncture transcutaneous electrical nerve stimulation and synovia subsitute and without the necessity of surgical intervention The neuraltherapy was applied as epidural anesthesia in the region between C4 and C7 spinal nerve block or block of the brachial plexus and local infiltration The additional therapy of TENS, salve, antiphlogistic following the modified WHO Stepscheme in combination with acupuncture and neuraltherapy after TRANG improved the success of treatment Thus even more no patient needed surgery
Results: The described treatment of the shoulderjomt arthrosis combining for the first time causal therapy and substitution of synovia by ,,Synvisc ' in this place is also highly effective for relapses after surgical treatment of rupture of the rotator cuff and impingement syndrome
Conclusion: correctly applied this new treatment of shoulderjomt arthrosis should be given priority to classical therapies since it causes lower costs and less stress for the patient
Acknowledgments: Our special thanks to the firms Goedecke Wyeth and Biomatnx, Germany for their friendly support
"ULTIMUM REFUGIUM" IN THE TREATMENT OF THE COMPLEX REFLEX PAIN SYNDROME type H
Jiri Kozak. Ivan Vrba* Centrum pro leceni bolestivych stavu -W Motol, V uvalu 84, 15006 Praha 5, Czech republic +Nemocnice Na Homoice, Roentgenova 2, 15030 Praha 5, Czech republic
Aim of investigation: We should like to present to you a very complicated treatment story of a 35-year old woman with advanced stage 3 of CRPS type II. She has been almost fifteen years after injury and after repeated operations in the region of upper left limb.
Methods: We are showing all the treatment approaches used in this lady on the time diagram. We have used all cure methods available for us to treat this terrible state. We have used invasive and non-invasive approaches. We were succesful in stabilization of chronic state and in pain relief, but psychological state has got worse and patology state has been progressing over the treatment period.
Results: We only have noticed succesful effect by using invasive methods, especially after use of repeated continous approaches with catheter in the region of cervical epidural space. We have used this approaches nine times for about four years. We only have used Bupivacain for treatment and the patient is able to function properly in her own home environment. When we used the less invasive and non-invasive methods, the treatment effect has not proved efficient.
Conclusions: We are convinced of permanent psychological care by psychologist and psychiatrist and the use of various aggresive drugs is quite necessary in the future. But what more can we do for this patient? We might get on with repeated epidural approaches or we might to use any form of neuromodulation methods (epidural or intrathecal pump, spinal cord stimulation or peripheral nerve stimulation), or the use of any neuroablative procedures. Is there anything else or better that we could use to help this particular patient? We hope that the algorithm that we have established will help to change and improve this unfavourable state.
COMPREHENSIVE APPROACH TO THE TREATMENT OF THE COMPLEX REFLEX PAIN SYNDROME
Ivan Vrba. Jin Kozak*, Rudolf Cemy" Nemocnice Na Homoice, Roentgenova 2, 150 30 Praha 5, Czech republic, * Centrum pro leceni bolestivysh stavu, FN Motol, V uvalu 64, Praha 5 , Czech republic, ** Neurologicka klinika FN Motol, V uvalu 64, Praha 5, Czech republic
Aim of investigation: Complex Regional Pain Syndrome (CRPS) is a new term for what used to be called RSD or causalgia. Symptoms can develop into CRPS of type I from minimal or no trauma and or of CRPS type II from a major nerve injury. Both CRPS types I and II can have three stages.
Methods: CRPS is still very complicated health and social problem. It is pity, that a clear and uniform approach to treat this illness has not yet been formed and used worldwide. Therefore we have attempted to form an algorithm of treatment of this very painful condition. We have always used the multidisciplinary approach in terms of the type and stage of this illness.
Results: On the basis of our experience with our patients since 1995 we have come to these basic conclusions: 1. CRPS type II requires the earliest and the most comprehensive approach to the patients- it means the strongest treatment immediately from the beginning of stage 1 consisting of pharmacology, psychosocial and invasive approaches. 2. At CRPS type I pharmacology and rehabilitation approaches have been often sufficient at initial stage. 3. At the advanced stages of CRPS it is neccessary to start urgently and simultaneously with all the described treatment methods.
Conclusions: Algorithm of the treatment CRPS, that we have used in our patients seems to us to be suitable and effective in almost all of our patients. We have not noticed any progress of CRPS and pain relief has been achieved at about sixty per cent of our patients. We have come to a conclusion that the substantial problem in the CRPS treatment remains frequent narrow-targeted specialist's underestimation of multidisciplinary approach.
ALLODYNIA AND SENSORY DEFICIT IN POSTHERPETIC NEURALGIA (PHN); EFFECTS OF ANTIVIRALS AND TRICYCLICS
David Bowsher , Pain Research Institute, Rice Lane, Liverpool L9 1AE.
90 PHN patients were examined, all of whom were treated with tricyclics (TCAs). Sixty-eight exhibited allodynia and 69 a sensory deficit. Fifty-three had both, 15 allodynia only and 16 a sensory deficit only, while 6 had neither.
Results and Discussion. Of the 68 patients with allodynia, 31 had received acyclovir (ACV) for their acute herpes zoster (HZ); nineteen of them improved with TCA treatment, while of 37 allodynic patients who did not receive ACV, 21 improved with TCAs. Thus there is no influence of ACV on response of allodynia to TCAs (Chi2 p=0.5); but only 63% of the acyclovir-treated group had a sensory deficit with their PHN, while 85% of the non-acyclovir group had a sensory deficit (Chi2 p=0.01). The only PHN group showing a significant difference between improvement and non-improvement (Chi2 p=0.005) according to whether or not they had received antivirals were the patients with a sensory deficit with or without allodynia. 75% of them improved irrespective of antiviral treatment of HZ. TCA treatment was more effective in getting rid of pain in patients with sensory deficit but no allodynia, and this effect was enhanced by the pretreatment of HZ with acyclovir1.
It will be interesting to see whether gabapentin, which acts by an entirely different mechanism, is more successful in abolishing allodynia.
1. Bowsher D. Pain Schmerz Douleur, 1994; 15:9-12
EFFECT OF AMANTADINE ON POSTOPERATIVE ANALGESIA
Dirk G. Snijdelaar. Joel Katz, The Acute Pain Research Unit, Toronto General Hospital, Toronto, Ontario, Canada.
Aim of investigation: To investigate the postoperative morphine-sparing effect of oral amantadine given perioperatively to radical prostatectomy-patients.
Methods: In this double-blind study, 24 patients were randomly allocated to one of two groups. Patients in group 1 received amantadine in a dose of 200 mg the evening before surgery, 200 mg one hour before surgery, and 100 mg 8 h, 20 h and 32 h after surgery. The patients in group 2 received placebo capsules. PCA-morphine consumption was recorded for 48 h
Results: Twenty-one patients completed the study. Patients in group 1 showed a significant reduction in cumulative PCA-morphine up to 46 hours after surgery (see figure, *p<0.05,+p=0.0515).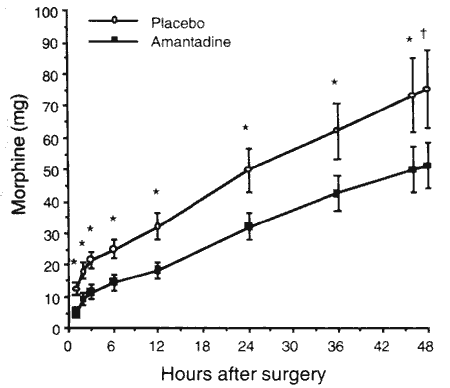 Conclusions: Amantadine is a drug that has been in clinical use for more than twenty years. Its level of toxicity is low. There is good evidence that amantadine is a low affinity uncompetitive NMDA receptor antagonist. This action on the NMDA receptor may explain our finding of a morphine sparing effect of the perioperative use of amantadine.
CLINICAL AND GENETIC STUDIES IN OSTEOGENESIS IMPERFECTA (O.I.)
Trofin. Elena. G.P. Bacau, Romania
Aim of investigation: l)The importance of precocious diagnosis and the prevention of any other complications. 2) The need of a genetic advice in the families when such disease has already appeared.
Methods: The researches were made using 56 patients, put in clinics or studied personally. The age was between 7 days or 74 years old. From the lot I studied 4 families and 20 isolated cases. I discovered 2 patients with congenital O.I. the rest of them having O.I. tarda. The patients were examined clinically and paraclinically.
Results and conclusions: O.I. is a hereditary disease with a systematic character affecting organs of mesenchyma origin and having the following three main symptoms:
osteoporosis and frailty of bones (spontaneous fractures which lead to deformation) blue sclera and deafness. To these major signs associated or isolated we can add a variable frequency and other dentinogenesis imperfecta modification, dermal atrophies, blue tympan, hemorrhagical diathesis, precacious atherosclerosis. O.I. has two clinical forms according to the age it appears and the gravity of its manifestations. In O.I. congenital (the baby is born dead or it can't survive the first years of childhood) and late O.I. to which symptoms appear late, the fractures are rare. The incidence of this illness being enough great it should be known both from a clinical point of view and the manifestations in order to diagnose it precociosly.
FUNCTIONAL ENDOSCOPIC SINUS SURGERY AFTER SPHENOPALATINE GANGLION BLOCK OR GENERAL ANAESTHESIA: EFFECTS ON POSTOPERATIVE ANALGESIA
Osman N. AYDIN*, Sema BASAK*. Feyza UNAL**
Adnan Menderes University, Faculty of Medicine, Dept. of *Anaesthesiology and **ENT, 09100, Aydin/Turkey.
Aim of investigation: This randomized study compared the cardiovascular effects and postoperative pain with locoregional and general anaesthesia in functional endoscopic sinus surgery (FESS).
Methods: Ninety-nine patients aged between 12-65 who underwent elective FESS were enrolled in this study. Sphenopalatine ganglion blockade (SPGB) was applied with lidocaine (2%, 10 ml) in group I and bupivacaine (0.05%, 10 ml) in group II. General anaesthesia with isoflourane (%1) and NzO/02 50/50% was administered in group III. Mean arterial pressure (MAP) and heart rate (HR) were recorded during surgery. Pain was evaluated with Visual Analog Scale (VAS) at baseline, 2, 6 and 24 hours after surgery. Analgesic requirement was documented postoperatively for 2 days.
Results: VAS scores were higher in group III at 2 and 6 hours postoperatively than the locoregional groups. The patients' analgesic requirements were almost two times higher in group III than the locoregional groups (p<0.002). MAP decreased significantly after induction, at 15 and 30 minutes in group III and increased at 45 and 60 min. in group I. HR decreased significantly during the operation in group III.
Conclusions: Because of higher pain scores and analgesic requirements in group III and better cardiovascular stability with locoregional anaesthesia, SPGB was found to be superior to general anaesthesia in FESS operations.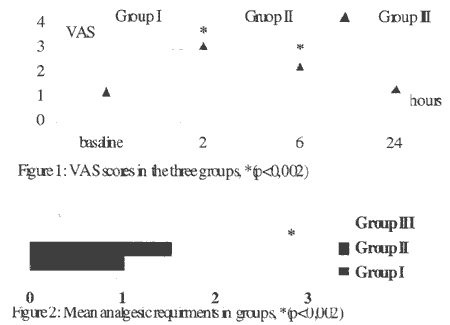 CLINICAL EXPERIENCE AND A POSTAL SURVEY OF PROPOFOL-ANESTHESIA DURING PAINFUL PROCEDURES AT THE PEDIATRIC ONCOLOGY WARD
Margareta von Heijne'. Stefan Soderhall2, Gunnar L. Olsson'
Karolinska Inst., 'Pediatric Anesth, Pediatric Oncology, Astrid Lindgren Children's Hosp, Karolinska Hosp, S-171 76 Stockholm, Sweden
Aim of investigation: To evaluate if light propofol-anesthesia at the ward could improve the management of procedure pain and anxiety in children with cancer, when the combination of EMLA cream, local anesthetics (l.a.) and midazolam had been unsuccessful or was impossible to perform.
Methods: Anesthesia routines and a pilot-questionnaire were developed. The questionnaire was mailed to parents of 23 children that after EMLA application were anesthetized with propofol (19) or midazolam and alfentanil sedation (2) during lumbar puncture and/or bone marrow aspiration, at the pediatric oncology ward.
Results: 57 anesthesia were performed success-fully in 23 patients. The return of questionnaire compliance was 91% (21), age range 2 to 16 years. All reported advantages with anesthesia at the ward compared to at the operating room (OR). In the list of stated advantages, 86% marked familiar nurses and doctors, 81% familiar environment, 81% closer to the own room, 71% the child more calm, 67% shorter waiting-time, 62% faster recovery, 48% shorter fast and 48% parents more calm, as benefits. For eventual future procedures requiring pain relief and anesthesia, 90% of the parents/patients wanted these procedures performed at the ward.
Conclusion: If painful procedures in children with cancer can not be performed with EMLA, l.a. and midazolam our clinical experience and a postal survey suggest that light propofol-anesthesia performed at the ward might be advantageous and preferred by parents/patients compared to anesthesia at the OR.
Acknowledgements: Timmermansorden, Sweden.
ANALGESIC EFFICACY AND SAFETY OF BUPRENORPHINE TTS IN PATIENTS WITH CHRONIC PAIN
R. Sittl. Head of study group University of Eriangen, Pain Clinic, Eriangen, Germany
Aim of Investigation: The transdermal admin-istration of opioids can considerably improve the treatment of chronic pain in comparison to other forms of analgesic administrations. The new transdermal system Buprenorphme TTS was investigated in this study in order to determine the analgesic efficacy and safety of three different dosages (TTS 35= 35 ug/h; TTS 52.5= 52.5 ug/h, TTS 70=70 ug/h) in comparison to placebo in chronic pain.
Methods: 152 patients with chronic tumour-related and non-tumour-related pain requiring long-term treatment with potent opioids received transdermal buprenorphine in one of three dosages or placebo in a randomised, double-blind manner. Five patches were applied and changed every 72 h. Buprenorphine sublingual tablets were available for all patients throughout the study. During treatment pain intensity, responder rate, duration of sleep, consumption of sublingual tablets and adverse events taken were documented.
Results: The response rates for buprenophme TTS were 36.6 % (TTS 35), 47.5 % (TTS 52.5), and 33.3 % (TTS 70) and therefore different to placebo (16.2 %). Patients receiving placebo TTS reduced their sublingual buprenorphine only to 8 %, while patients treated with buprenorphine TTS reduced the sublingual tablets by at least half. About half of the buprenorphine TTS patients reported good or complete pain relief, in contrast to 30.1 % in the placebo group. Systemic adverse events were typical of those occurring during opioid treatment. Adverse events at patch site were mainly erythema, pruritus with a low incidence of 28.9-41.5 %.
Conclusion: Patients treated with buprenorphine TTS clearly benefited from treatment in comparison to placebo treatment. The advantages of the transdermal system are application over a long period, improvement in pain intensity combined with a clear reduction in additional medication.
A MODEL SYSTEM TO TEST BOTULINUM TOXIN TREATMENT IN LOW BACK PAIN
Martin K. Childers. DO: Daniel J. Wilson, PhD; Steve M. Gnatz, MD; Robert R. Conway, MD; Ashley K. Sherman, MA. From the Dept. of PM&R, School of Medicine, University of Missouri-Columbia, Columbia, MO 65212 USA
Aim: We tested the hypothesis that botulinum toxin type A (BTX-A) decreases low back pain attributed to piriformis muscle syndrome (PMS).
Methods: pain reports were correlated with: H-reflex latencies, gait analysis, and motion-analysis pain dynamometry. Using this model, nine volunteers were studied in a randomized, double-blind, placebo-controlled crossover trial. Subjects reported pain intensity >3/10 on visual analogue scales (VAS) after at least 3 months of failed conservative treatment prior to enrollment. The symptomatic muscle was injected using fluoroscopic/EMG guidance with 100 units BTX-A or placebo (saline). Ten weeks later, saline or BTX-A injections were repeated.
Results: Data (previously reported) demonstrated that whereas at baseline, no differences were detected between groups, the BTX-A treatment average was significantly (p=.0273) improved from baseline/washout average in VAS of activities. Data suggest that significant (p=.0547) improvement in VAS in muscle spasm (p=.0547) occurred in the BTX-A group, but not the placebo group. Significant (p < 0.05) differences were observed between average of two minimum VAS at baseline and average of two minimum VAS (in all categories) under the BTX-A arm, but not the placebo arm.
Conclusions: Compared to intramuscular saline, BTX-A injections reduce some, but not all, pain reports attributed to chronic PMS.
THE OUTCOME OF LONG-TERM OPIOID THERAPY IN CHRONIC NON -CANCER PAIN
J.Lejcko, S. Machart, H. Mmarova, N. Popperova', M. Bfiek2, E. Kasal, I. Chytra, Anaesthesiology and Intensive care Dept-Pain Centre, Quality of Care Dept2, Charles Umv Hospital, Pilsen., Anaesthesiology and Intensive Care Dept-Pain Clinic, Hospital Ceske Budejovice'., Czech Republic
Aim of investigation: Evaluation of the efficacy and safety of long-term strong opioid therapy in chronic non-cancer pain. Comparison of use of fentanyl TTS (Durogesic) and morphine SR (MST Continus).
Methods: Retrospective analysis of data from 48 patients treated with opioids in 1999 was performed. Previous treatment had been included. Fentanyl-TTS (group I.) was used in 28 patinets (11 males, 17 females, mean age of 59, mean treatment duration 105 days, pain ongin-3 neuropathic, 14 nociceptive, 11 mixed), 19 patients (group II.) were given morphine SR (11 males, 8 females, mean age of 51, mean treatment duration 154 days, pain origin-4 neuropathic, 7 nociceptive, 8 mixed). Issues of potential benefit-pain relief (assessed by VAS 0-100 at base line and at the end of follow-up), daily life activities (DLA, 3-pomt scale), treatment acceptability (3-pomt scale), and potential risk opioid side effects were monitored.
Wilcoxon and Man-Whitney tests were used for VAS evaluation, data are shown as medians and 95% confidence intervals for median
Results: There was no dose escalation (median 25u/h) in group I. VAS at baseline 40-100, median 70, VAS at the end of follow-up 10-80, median 40, DLA median 2, acceptability median 2. Adverse effects: 3 x vomiting, 5 x constipation, 1 x pruntus, 9 x sedation..
Dose escalation in group II. was recorded in the range of 30 to 60mg/day, VAS 60-100, median 80 before morphine, VAS at the end of follow-up 10-90, median 60, DLA - median 1, acceptability median 1, adverse effects: 2 x vomiting, 5 x constipation, 2 x pruntus, 4 x sedation.
Conclusions: In both groups we proved essential pain relief (Wilcoxon test) and correlation between acceptability and DLA improvement. However, no statistically significant differences between the two groups (Man-Whitney test) in terms of pain relief and side effects occurence were found. In conclusion, long-term opioid therapy, when standard treatment has failed, can be useful for chronic non-cancer pain patients .
NEW OPEN-END PENCIL POINT SPINAL NEEDLE REDUCES THE INCIDENCE OF POSTDURAL PUNCTURE HEADACHE
Kinya Sato. Hiroshi Okada, Naohisa Mori
Department of anesthesiology, Iwate Medical University, Morioka, Iwate, 020-8505, Japan
Aim of investigation: Dural puncture is performed to examine the cerebrospinal fluid (CF) of patients with herpetic radiculoneuritis, but the incidence of postdural puncture headache (PDPH) is high. Though the smaller the diameter of spinal needle, the lower the incidence of the headache, it takes longer time to withdraw the CF because of its viscosity.
Methods: We investigated the sampling time of 10ml CF and the incidence of PDPH in 30 patients performed making a dural puncture with a 23,25-gauge double-stage needle (23, 25 G) and in 20 patients with a new 23 gauge open-end pencil point spinal needle (new 23G). The incidence and duration of PDPH were investigated by ananesthesiologist by inquiry of the patients until the seventh post-operative day.
Results: The patient profiles did not differ signifcantly between the two groups. The sampling time of 10ml CF was significantly different (23,25 G:206±15 versus new 23 G:185±14sec p=0.02). The incidence of PDPH was high (30%) in patients using a 23.25G needle, while there were no signs of PDPH observed in patients using a new 23 G needle. The duration of the headache in patients using 23, 25 G needle was 2.7±0.4 days.
Conclusions: The shape of a spinal needle tip might bean important factor for PDPH. The new spinal anesthesia needle is sufficiently useful to examining CF.
CRITICAL CARE ASSISTANCE PROGRAM FOR CHRONIC PAIN PATIENTS WITH TECHNICAL PROBLEMS RELATED TO ACTIF IMPLANTS
Dr Albert Debrun*. Dr Patrick Camelbeek**, Dr Daniel
Raket*, Sophie Leruth*
Pain Clinic* and Emergency dpt**
Les Cliniques Saint Joseph, 4000 LIEGE, BELGIUM
Introduction: Implantable devices have taken an important place in the treatment of severe intractable disease. With the extension of indications, it is necessary to develop specific protocols to treat these patients for emergency cases.
Aim of investigation: To enable the emergency service to manage adequately the technical problems related to active implants such as neurostimulation systems and implantable pumps.
Method: Development by the pain clinic staff of protocols allowing a first line management of technical problems related to active implants:
Train critical care physicians for indications, technical aspects of the devices and implant technique.
Train critical care physicians for emergency situations, for the use of existing protocols to solve the technical problems.
Create a standard information report for communication between the emergency staff and the patients' physician.
Results: The emergency unit can provide adequate answer to the patient with technical problem and fulfil clinical and complementary examination, reanimation and palliative treatments.
The critical care unit can manage these type of patients through the development of a specific protocol for problems of first order: device related problem, and of second order: problem of unrelated origin.
Better communication and collaboration between the emergency unit and the patients' referral.
Conclusion: The training of the critical care unit and the development of specific protocols are beneficial to treat patients in emergency with implantable devices.
Pain in Europe III. EFIC 2000, Nice, France, September 26-29, 2000. Abstracts book, p. 322, 138, 251, 252, 263, 281, 282, 283, 284, 286, 296, 299, 314, 323, 360.